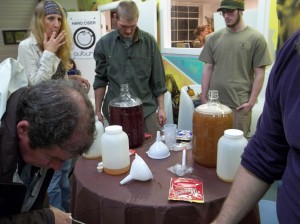 I'm happy to announce that I'll be offering a Lore And Craft Of Mead Workshop in Manchester, NH on Thursday, June 30th at 7pm. The workshop will include a small mead tasting of a few brews I've done, a talk about the lore and value of mead, and a demonstration of how to make your first batch of mead. Registration for the class is $30, and includes a copy of The Lore And Craft Of Mead eBook.
Register for the class here: [wp_eStore:product_id:2:end]
In addition, I will have brewing kits available, that include all the equipment and basic ingredients you will need to produce your first batch of mead, including a 3-gallon glass carboy, rubber stopper, airlock, funnel, siphon hose, and a hydrometer, as well as a gallon of fantastic local (to me in Maine) honey and a packet of yeast.
NOTE: As of June 25 it is too late to get the brewing kits in time for the workshop. Class registration is still available.
If there are any questions, or specific requests for what the class should cover, please contact us! I'm very much looking forward to sharing the magic of mead with Manchester people! Space is limited, so register now!