And another bountiful harvest: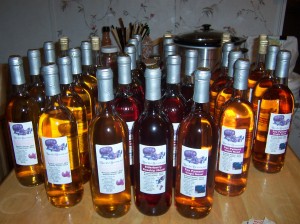 Unfortunately, a printer mishap caused the labels to print a bit off in terms of color. Ah well. Close enough. :-)
The Husk Cherry Mead is very subtle; the husk cherries give a nice layer of richness to the dry mead, it smooths/mellows it out nicely.
The Elderberry Rosehip Mead is delightful — tart, dry, and a real immune system blast. I'm happy with it; I was envisioning last year's Elder Mead minus the bitterness of the reishi, and that's exactly what it is.
Finally, the Fox Pyment Single Mead is my favorite of the bunch in terms of flavor. A simple mead with just a touch of the most wonderful grape flavor with it. I can't wait to try the double mead when it is ready…. it should be a bit sweeter with a much more intense grape flavor.
All three of these meads are dry, which is nice. Many recent meads have been sweeter.
With this bountiful harvest behind us, let this be the first teaser: there are a few changes on the horizon for BardicBrews.net. Thus far, most of this site's content has been focused on "brews" which is great…. but moving forward, look for more content on the "bardic" side of things. Stay tuned!