It's June, therefore it's time for another strawberry mead! This year I wanted to have a stronger strawberry flavor, to be a bit drier than past years, and to simplify the herbal process.
I started with a decoction of chaga and a sumac drupe, cooled and strained back into the carboy: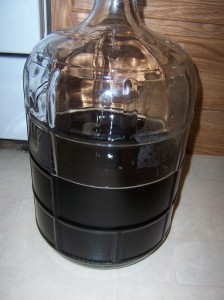 Next, I used double the amount of strawberries relative to last year — 2 quarts, which weighed 3 pounds – that were lovingly (and knee-achingly) picked by my wife and daughter this morning: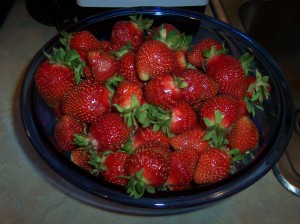 Next, I juiced the strawberries in our juicer, which created about a quart and a half of strawberry juice:
Next, I added the chaga sumac tea, a bit more water, and enough honey to get me to a 15% initial alcohol potential:
Then I pitched the yeast into the carboy, poured the must in after it, and topped it off, to give me 3 gallons of strawberry thunder goodness:
I initially thought about calling this batch Strawberry Solstice Mead, but the Solstice was a few days ago, and right when I was making this batch a classic summer thunderhead blasted its way over our house. Strawberry Thunder it is! I expect this batch to be potent, and dry, and full of strawberry flavor. Time will tell!
UPDATE, 12 April 2014
This mead went for a very long time without clearing! It still isn't clear which is somewhat of a rarity for me these days. I'm sure it's because of the extra pectin from the abundance of strawberries I used. I finally racked it today and, while not clear, it is delicious, a bit sweet, and tastes strongly of strawberry, coming in at 12.5% alcohol, meaning there is 2.5% remaining alcohol potential, which is somewhere between semisweet and sweet. The strawberries add another layer of perceived sweetness so we'll call this one a sweet mead.
Because it didn't clear, I may end up not bottling it in the normal 750ml clear wine bottles, instead using smaller grolsch bottles or larger jugs, for use at fireside gatherings where it will be served in horns and the lack of clarity is not to be noticed. :-)