Out of all the meads I did last year, the Spruce Mead was easily the most unusual, and also one of the best-loved. I was told "it tastes like Yule" more than once, and one friend sipped it, shouted with joy, jumped up, gave me a hug, and told me it was the best mead he'd ever had. For me, it was also the first mead I made using ingredients from my local ecosystem. I harvested the spruce boughs on Beltane, and made the tea with that.
This year, I waited a bit longer in the season. I got the most gorgeous, neon-green tips when they came out: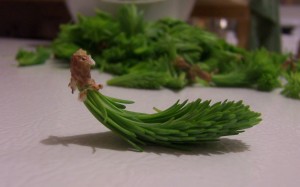 I took about a half-gallon of these boughs, harvested sparingly from the north side of the tree, and from branches near my driveway that I didn't want to grow much further over the driveway, and made a tea:
I brought the tea to a boil, and then turned the heat off for a nice spruce tip infusion. I then strained the spruce tips. I wanted to add some tang to it as well, so I made about 3 cups of sumac tea, using 2 TBSP of crushed staghorn sumac:
Again, I brought it to a boil, and let it infuse for about 5 minutes. I then poured the tea through a strainer into the large pot with the spruce tea, which warmed the tea up nicely (it had cooled to room temperature).
I then added enough honey to get to a 19% alcohol potential: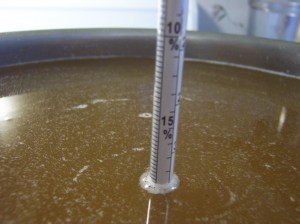 The spruce mead last year was extremely sweet, which was part of its charm. Hopefully this batch will be somewhat less sweet, with a relatively high alcohol by volume rating (I'm shooting for 15% alcohol, with 4% potential remaining for a pretty sweet finish).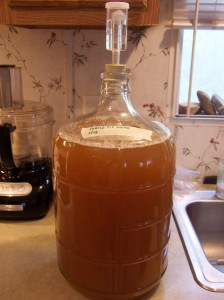 Technically, this mead is a metheglin, since it was brewed with herbs. This was a big hit last year, and along with the Treequinox Mead this year I hope it comes out well.
UPDATE
9 Sept 2011: Just racked this mead. It's still extremely sweet at 6% alcohol potential, which means this mead is at 13%. Flavor is subtly different than last year's, which I attribute to using sumac rather than lemons and black tea. Still fantastic! Will be nice to have both this and the Treequinox Mead aging in my "cellar"….