The Blueberry Mead I did last year was really yummy, and blueberries are abundant here. So of course I wanted to do another one this year. As it happened, the Auburn Mead Workshop coincided with blueberry season. This year I found a quart of wild blueberries at my local farm stand, at a very reasonable price. So of course I used them.
I wanted to use chaga again, since chaga works so well with berry meads. I did a 2 gallon chaga decoction, and then when I turned off the heat I added a sumac drupe and several handfuls of nettle leaf. I let these ingredients infuse for about an hour, strained the tea, and let it cool down overnight.
I took the tea to the workshop, brought up to about a 19% alcohol potential using my all-time favorite honey, Tony's Raspberry Honey. I pitched the yeast, and before long I had a yummy carboy full of a deeply colored must: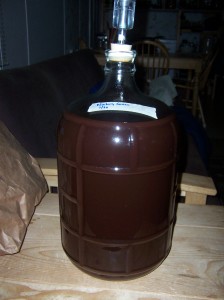 Looking forward to this one again….. all the berry meads from last year were fantastic.
UPDATE
10 Sept 2011: I just racked this mead, and it clocks in at 4% alcohol potential. This means it's a sweet melomel with 15% alcohol. Taste is good…. it's still young of course so aging will benefit it greatly, but it's already quite drinkable. Nice color too, will be even better when it settles out!