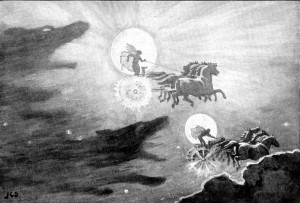 After finishing up the Luna Bochet yesterday, I still had some honey (not caramelized) and some chaga/sumac tea left over, so I thought I'd make up a quick traditional mead. Since today is the full moon, I thought I would name this batch after Mani, who is the Norse personification of the Moon.
I have been fascinated with Mani for some time, since I started studying the old Norse stories, mostly because Mani is male. Most other traditions depict the moon as female, which has become so familiar to me over the years that the idea of a male moon seemed strange. Interestingly, Mani's sister, Sol, is the personification of the Sun, again going against what I had gotten used to in most other traditions with a male sun and a female moon.
The last of my honey bucket was quite crystalized, so I began by melting the honey a bit under some gentle heat, so that it would dissolve more quickly: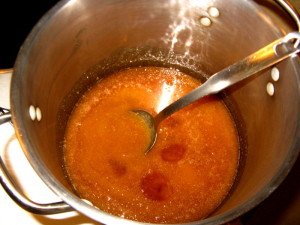 Once it was liquefied, I added the remaining chaga/sumac tea, then added a bit more water and honey, to get myself up to an 17.5% initial alcohol potential: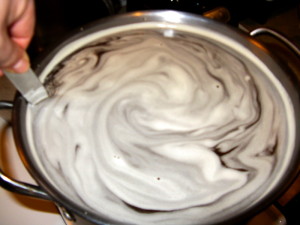 As I stirred, I could see symbols and shapes coalescing and dissolving in the thin layer of foam on top of the must. These swirls look almost like animations, and there are stories hidden within them.
Once the mixture was complete, I pitched the yeast, poured it into the carboy, shook it up, and now I have a batch of wonderful traditional mead, which has become my favorite kind of mead over the past few years:
Hail Mani on this night of the full moon!