This is my third year making mead using local, wild and/or organic berries in season. For this year's strawberry mead I wanted to do something a little different; at the same time I pretty much have the berry meads dialed in to produce consistent and delicious meads. Some of my herbal meads I've experimented with over the past year or so have been a bit heavy-handed with the herbal flavor, so I wanted to back off a bit on the herbal ingredients, using herbs with gentler flavors.
For this mead, I wanted to use my now-customary chaga decoction as a base, and also repeat last year's experiment with strawberry leaf tea, and also add some St John's Wort, for without that it would be mere Strawberry Mead (which is actually delicious in itself).
St Johns Wort
St Johns Wort (Hypericum perforatum) is one of the more well-known herbs used in our culture, since it is very effective in treating one of the more widespread psychological dis-eases in our culture: depression. According to Mountain Rose Herbs,
Originally native to Europe, North Africa, and Western Asia, St. John's wort is a perennial plant with bright yellow star-shaped flowers are now readily found throughout North America, growing wild in neglected fields and along roadsides. St. John's wort rose from virtual obscurity in the U.S. to become the fifth best selling dietary supplement in mainstream retail stores. Its rise to fame came after the national media reported clinical research showing that it was safe and effective for treating mild to moderate depression, and the Greek physician Hippocrates (ca. 460-377 B.C.E.) was one of the first to speak of the health benefits of St. Johns Wort, and it as been used to treat anxiety, neurosis, and depression since the time of Paracelsus (ca. 1493-1541 C.E.), when it was declared to be "arnica for the nerves." In addition to its value as a psychiatric treatment, Some of the original folklore uses of this versatile plant were in treating bedwetting, rheumatism, and gout.
In addition to its widespread use and lore, I do have some personal experience with this plant, having used it to to self-medicate for mild depression issues a few times in my life.
One additional use that is gaining notoriety is in using St Johns Wort as part of an herbal smoking mixture. I don't have any personal experience with this but it is something I may experiment with.
Interestingly, one of the side effects of St Johns Wort is that it can make one more susceptible to sunburn and UV from the sun in general. However, this seemed somehow appropriate given the sunny disposition of this strawberry mead.
The Process
I began as is common for me these days with a 12-hour chaga decoction. At the end of the 12 hours I turned off the heat, added 3 organic black teabags for the tannic acid, a few fistfuls of chopped St Johns Wort, and finally a good fistful or two of dried strawberry leaves from last year's harvest:
I let this steep for about 10 minutes, and then began to cool the must. Too cool it, I used the new technique I tried recently with the Bar Mills Braggot, putting the stockpot into a sinkful of cold tap water. This technique works very well!
Once the tea had cooled, I strained it and was ready to make the mead. The main ingredients are honey, the tea, and a quart of strawberries: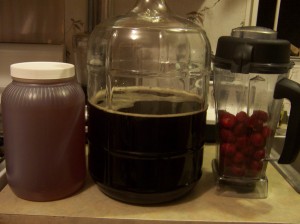 First I strained the blended strawberries into the tea:
Afterward, I added enough honey (about 14 cups) to bring the must up to about 17.5% alcohol potential: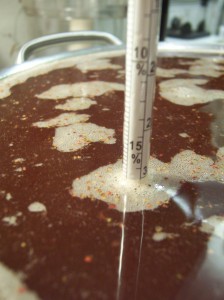 Once everything was mixed well, I poured the rehydrated yeast into the bottom of the carboy, added the must on top of it, shook it well to mix and oxidize it, and capped it with an airlock:
As I write this 24 hours later,  it is happily bubbling away.