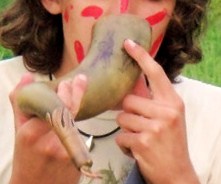 Let's say you have started brewing mead, and you finally have a few good bottles on hand. Now you have the potential to be the kind of host you yourself would love to visit. Take a moment to think about this. Mead is a gift from the Gods, from our ancestors, from countless bees carrying miniscule amounts of pollen for miles, from the yeast which is also a creature of the Gods, and you will now be able to share this relatively rare and undeniably divine gift with guests in your home. Ideally, it should not be much about you. This is hard, but I try to always acknowledge the Gods and the bees, and to never hold back in assisting others to find their way into mead-brewing. Yes, I show off some, and you can too.
Look what I made, isn't it great? Yes, I am proud of my cellar with its rows of very special bottles accumulated through years of learning my craft, and from trading bottles with other meaders that I admire. Yes, I get to watch people's eyes cross with pleasure at that first sip of an exceptional batch, and you can too. What I'm saying is that some humility is in order. You will feel better about yourself, you'll be showing respect due to those who have gone before, if you never open a bottle of mead without keeping the history, the magic, and a strong reverence for the traditions in the front of your mind.
Okay, enough preaching. Back to having some mead on hand, some company coming, and how you can maximize the gifts that you now have. First know that not all meads are created equal. In fact, when it comes to home-brewed mead, every batch is different and deserves to be presented at its best. A good rule of thumb is that mead should be a touch sweeter than what it follows. Simply put, if more than one mead is on the menu, start with the driest one, and work your way through to the sweeter ones. A good dry mead can be astounding, but if you serve it on the heels of a sweet strawberry chocolate mead, it is denied a good showing. If you serve mead with food, you can apply the same kind of thinking that goes into food/wine pairings. This takes practice, but an example is that a toothy dark braggot would do well with a pot roast, but not with a pound cake. A sparkling strawberry mead, semi-sweet, would go with the pound cake, but not with the pot roast.
Let me give you two scenarios. In the first, you have some friends over, you're excited about your mead, and you say, "Hey, glad you came over, I made mead, want some?" They of course say they would love some, and you whip out a bottle, a corkscrew, a couple of jelly jars, and pour out some mead. You hand it to them, and they take a slurp. Eyebrows go up, lips are pursed, evaluative expressions are tried on for size, and you get, "Huh. Interesting. Mead is what, viking beer?"
In the second scenario, you have some friends over, you take them out to the backyard where there's a little fire ready to go, maybe some thinly sliced steaks and saplings to cook them with. You allow them to relax and settle into your lawn furniture while the stars come out and the coals build up. After a while you step inside, and return with a nicely labeled bottle of your first batch of mead. In your other hand is a drinking horn, a leather tankard, at the very least a wooden cup or big old chipped coffee mug that was your grandfather's. You cut off the seal, make a good show of drawing the cork with a satisfying thwop, toss the cork into fire, saying, "That's Grendel's share." Pour, pause, take a deep sniff, smile with what has to be real satisfaction, take a sip, move to pass it to your left but think better of it, take another sip, smack your lips, say, "This you can't get down at the White Swan," or whatever your local bar is called. Now you pass it. Set the stage, bring up the lights, and let atmosphere and the uniqueness of your very own mead do the rest.
Uncomfortably long ago, when I first made mead, several others were closely following the process, and I made the mistake of more or less following the first scenario. "Hey guys, the mead's done, here's a glass, whattya think?" My friends were pleased that I had made some, because at that time mead was like kryptonite in that everybody knew what it was, and nobody knew where to get any. But they were underwhelmed. Mead is an atmosphere drink; there's magic involved, of the stagecraft variety. It's the difference between being handed a paper cup of wine at an end-cap in the supermarket, compared to having a waiter, with mood-lighting, italian music, and all, do the little routine where he offers you the cork to sniff.
Offer people mead when they're relaxed and sitting down, in a special vessel, with a little showmanship and maybe even a story, but don't wait for their reaction. Assume that they'll be impressed (because they will), and accept compliments with grace. Build the magic up around it, as if of course they're wowed, this is the stuff Hrothgar served, for Pete's sake! And no fire in the backyard would be complete without it. And you've given all your wine to the Salvation Army since you've discovered mead. And you happen to be able to reel off a few lines of Beowulf, the Poetic Edda, the Odyssey, or even Gilgamesh because mead just brings that much magic.
What I'm trying to say is that mead is the embodiment of a millenia-old tradition of reaching magical altered states using a unique beverage, and it is best introduced to new people with style, implied mysticism, and respect. You wouldn't offer someone real moonshine on the corner of Broad and Elm in a thermos, you'd do it in the woods with your finger hooked into the ring of jug emblazoned with xxx. You wouldn't give somebody their first pint of Guinness in a paper cup in the cafeteria, you'd do it with the right glass, a poster of a toucan on the wall, and a massive wooden bar under everybody's elbows. In that spirit, present mead in a horn, with a fire blazing, a song or a story ready to share, and the stars and silver moon above.
May you never thirst,
Harper Meader