I've noticed that in 2013, apart from doing fewer batches of mead overall, I've been dialing in and reproducing some of my favorite recipes from the past. I've spent several years experimenting with smaller batches, but this year I feel like I have some favorites dialed in, and am making more double-batches. I did this with the recent Mad Trad D2 mead, where I took my favorite sub-recipe from the Mad Trad Trial and made 6 gallons of it, rather than 2 different 3 gallon batches.
I'm doing the same with this batch; basically I'm reproducing last year's Double Blueberry Mullein and making 2 batches of it. As previously, I made a strong chaga decoction, added black tea and a fistful of mullein at the end, and strained it. I had 5 pounds of blueberries, so each batch will get 2.5 pounds (it got 3 pounds last year). Also it is starting at 18% initial alcohol potential, rather than the 19% from last year which turned out to be quite sweet. It was one of my favorite batches from last year, so I hope this year's turns out as well!
Logistically I tried something a bit newer as well. I didn't carefully measure the blueberries to make sure each batch got exactly half; in addition, I was down to the end of my honey bucket so I wasn't sure each batch would get the same initial alcohol potential (though as it turned out, my estimating was spot on!). Therefore, I decided to split the first batch among the 2 carboys, like this:
Then, I mixed up the second batch, and topped off both carboys. As always, the rehydrated yeast went in to each empty carboy first.
As it turned out, both batches came out exactly at 18% initial alcohol potential, so I'm not really sure this step was necessary, but it should make both batches much more similar.
In the end, I have 6 gallons of what will become another beautiful blueberry mead: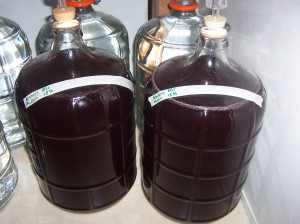 May this batch turn out as good — or better — than last years!
UPDATE: 15 December
I racked the mead tonight, and it is still wonderfully dark but mostly clear. It is semisweet, at 2% remaining alcohol potential, which means this brew is strong at 16% ABV. Definitely less sweet than last years. Already nice, but is dry enough to have a bit of bite that will surely mellow out over time. Success!
UPDATE: 21 March 2014
I have officially decided to re-name this batch Blueberry Bite Mead. :-)