We are very happy to bring you a brand new product: Herbal Asthma Strategies with Sean Donahue. After the success of the Lore And Craft of Mead book, we wanted to broaden our product range. While herbalism is one of the foundations of our meadmaking method, this new product is a foray into herbalism rather than fermentation.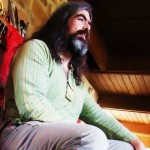 Herbal Asthma Strategies with Sean Donahue consists of 7 audio lecture recordings in mp3 format (over 100 minutes of audio total), as well as a concise booklet that outline Sean's approach to dealing with asthma. He developed these strategies with his own life experience. They were effective enough to have a profound effect on Sean's life, leading him down the path of becoming an herbalist. He no longer considers asthma to be a part of how he defines himself, and has helped many other people with their asthma.
The program begins with teachings about what asthma is, in terms of why the body responds to certain stimuli with the tightness, wheezing, and difficulty breathing associated with asthma. So the first step is to learn which triggers to avoid, in order to prevent the body from responding with breathing trouble. One very important trigger point is diet, which is discussed in detail to help you determine which dietary choices will improve your quality of breath.
In addition, Sean discusses the critical — and often overlooked — emotional component of healing associated with those who no longer have asthma, which may explain why some people "grow out of" asthma and others do not.
Lastly, Sean gives a breakdown of 13 Herbs for Asthma, discussing the virtues of each plant along with where and when it is appropriate to employ each one as part of your asthma strategy.
We've made available a short interview with Sean where we discuss this program and his history with asthma, which you can listen to here:
Here is the Music Player. You need to installl flash player to show this cool thing!
As you can hear, Sean's teaching style is quite gentle, heart-based, and thorough.
Lastly, we believe healthcare of all kinds are a fundamental right for everyone, so as of Imbolc, 2012 we are reducing the cost on this program to just $13.99!
Add it to your cart: [wp_eStore:product_id:5:end][wp_eStore_cart_when_not_empty]
Sean Donahue is not a medical doctor, and none of the information contained in this booklet or the accompanying recordings is intended for use in the diagnosis, treatment, or cure of any medical condition. The term asthma is used here in a general, colloquial sense, not as a term for a medical condition. Readers and listeners are advised to consult a health professional before beginning to use any herb.