For much of 2011, I've been experimenting greatly with herbal meads. Some of them have been fantastic, others powerful brews yet perhaps not the best tasting. There have been quite a few complex brews this year as I experiment and hone my meadmaking craft with the herbal skills I am also gaining.
I wanted to make a simpler mead that celebrated the local season. In Maine during autumn, this means cyser. We also had some blackberries floating around from earlier in the  year (love our new freezer), so I thawed a quart of those to put into the batch. Simple: blackberry cyser. Just the ticket.
I started with 3 gallons of fresh, nonpasteurized, non-UV treated cider from the orchard around the corner: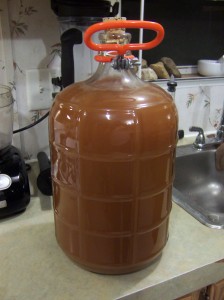 I added 2 cups of organic black tea: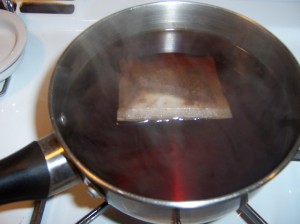 And I whizzed up a quart of thawed blackberries in the blender:
Mixed it with enough honey (about 3/4 gallon) to get to 18% alcohol potential:
And the result is a cloudy but beautifully-colored must: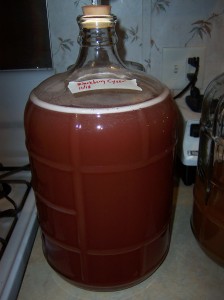 Definitely a seasonal brew. Can't wait to try this one in a few months!
UPDATE, 20 Feb 2012
Just racked this brew. Wow, delicious! Needs to age a bit but it's very well-balanced, semisweet at 3% remaining alcohol potential, 15% alcohol, and a lovely tartness from the apples balanced with a nice blackberry layer of flavor.
It's still cloudy, though clearer than the Perry Cyser. Not much blackberry coloration, it looks pretty much like a plain cyser: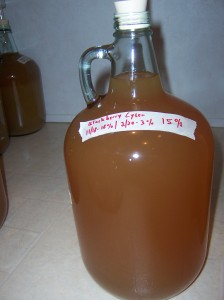 Already tastes very good, should get even better given a few more months….